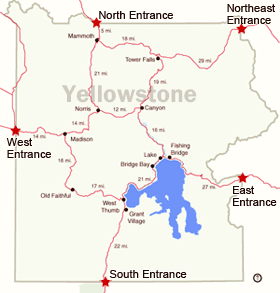 A Quick Look
There are five entrances to the park. It's recommended that you enter and exit by different routes, in order to cover as much of the park and its beauty as possible. The speed limit in the park is 45 mph/72 km/h.
East Entrance: Located 56 miles west of Cody, WY, off Highway 14, 16, or 20.
South Entrance: Located in Wyoming, accessed via Highways 191, 89 or 287 North. (Grand Teton National Park, a 26-mile-long national park, is situated just two miles south of Yellowstone Park; entrance fees to Grand Teton are effective for entry into Yellowstone as well.)
West Entrance: Located one half mile east of West Yellowstone, MT, and accessed by Highways 287, 87 or 20.
North Entrance: Located in the town of Gardiner, MT, and accessed by Highway 89.
Northeast Entrance: Located about 2 miles from Cooke City, MT, and accessed by Highways 212 or 291.

Don't Miss
It is suggested that visitors allow three days to a week for a proper experience in Yellowstone National Park. There are hundreds of sites, kinds of flora and animals to see, but the ten spots in the park that you should not miss are:
Old Faithful/Upper Geyser Basin - Yellowstone is renowned for its hundreds of active geysers, the largest of which is Old Faithful, named for its predictability: it erupts for about four minutes every 60-90 minutes. The Upper Geyser Basin where Old Faithful is located has numerous geothermal features, including hot springs, mudholes and fumaroles.
Grand Canyon of the Yellowstone - Not to be confused with the Grand Canyon, this is a canyon of the Yellowstone River that descends to a depth of 900 ft/275 m and is a half mile/0.8 km wide.
Hayden Valley - Centrally located in Yellowstone, this is home to a large concentration of wildlife and fowl. Here you can see bison, elk, the occasional grizzly bear, ducks, geese, pelicans and spectacular views of the valley floor.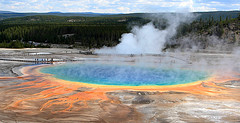 Grand Prismatic Spring Photo by: Frank Kovalchek
Mammoth Hot Springs - a complex of hot springs, located in the park's northwest corner, in the Mammoth District. Accessible year-round, with comparatively mild winters, it's the site of the park's main headquarters, Fort Yellowstone.
Yellowstone Lake - the largest high-altitude lake in the mainland 48 states; one can see ocean-like waves breaking against the shore on windy days.
Norris Geyser Basin - Echinus and Steamboat (the world's tallest geyser) are both located here. There are several miles of boardwalks from which you can see magnificent thermal features, elk and bison.
Lamar Valley - Located in the northeast section of the park, this is where the highest concentration of grizzlies can be found in the park. It's also home to elk, bison, osprey, bald eagles, antelope, moose and black bears.
Tower Fall - Located behind the General Store, this is one of Yellowstone's most popular waterfalls. It's recommended to take the short but steep hike down to the base of the waterfall. In the winter, it is accessible by following Roosevelt Junction to Tower Fall Road. Wear snowshoes or cross-country skis.
Fountain Paint Pots/Lower Geyser Basin - The multi-colored mud pots are located between the Lower and Midway Geyser Basins.
West Thumb Geyser Basin - This caldera within a caldera is the largest geyser basin on the shores of Yellowstone Lake.
Getting Around
The best way to get around Yellowstone National Park is by car. The entrance fee for a private vehicle is $20, good for seven days. An annual pass for a private vehicle costs $50. An individual can enter on foot or bicycle for $10, good for seven days, or $40 for an annual pass. Entrance for a motorcycle costs $25, good for seven days, or $40 for an annual pass. Entrance fees do not include camping fees.