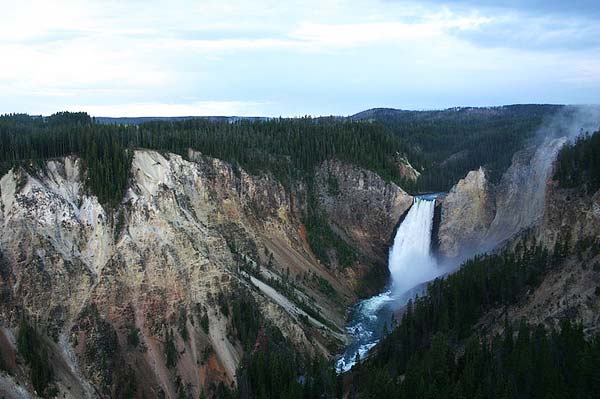 Grand Canyon of the Yellowstone with Lower Falls, at sunrise. Photo by Matt Howry
Over the course of hundreds of thousands of years, volcanoes, flowing lava, glaciers and floods worked together to form what became a deep canyon in the Yellowstone River in Yellowstone National Park. The last glaciers melted some 10,000 years ago, leaving the canyon in the form that we see it today, with some additional sculpting being accomplished by wind, water, earthquakes and other natural forces.
There are hiking trails and beautiful scenic overlooks. Don't miss the short hike down to the Lower Falls, Yellowstone's biggest waterfall - the view at the lip is spectacular.
A walk along the canyon will bring amazing views. A granite boulder, the size of a house, sits in the forest along the side of a road on the North Rim of the canyon. At a point where the canyon wall juts out over the canyon, there is a natural observation point called Inspiration Point. Some other observation points are Lookout Point and Red Rock Point. The latter spot is near a tall pinnacle of reddish rock under the Lower Falls. The Brink of the Upper Falls, at 109 feet, is the smaller waterfall on the Yellowstone River.
There is a Canyon Visitor Center in the Canyon Village complex, about 1/8 mi (1/5 km) southeast of Canyon Junction. Lodgings include Canyon Cabins and Canyon Lodge, both located in Canyon Village. There is also a camping ground near the Grand Canyon of the Yellowstone, close to the center of the park. There are no utility hook-ups, but the area holds restaurants, stores, a coin laundry and pay showers. There are 272 sites usually available from June to September. A fee of about $17 is charged for camping.