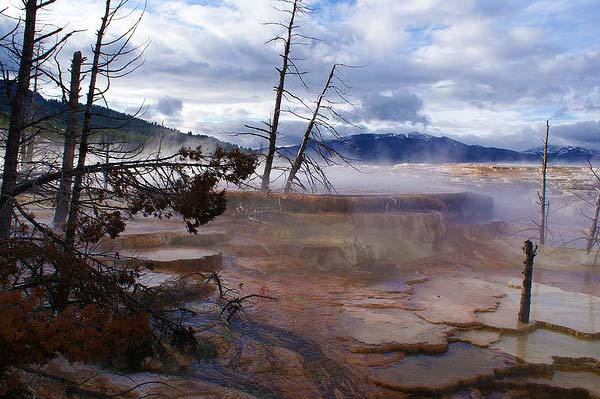 Mammoth Hot Springs - Photo by Glenda Wilburn
Location: in the northwest corner of Yellowstone National Park, five miles inside the North Entrance, and at the northwest corner of the upper loop of the Grand Loop Road.
The Mammoth Hot Springs are different from many of the other thermal features in the park. Over thousands of years, a hill of travertine developed as hot water from the spring cooled and deposited calcium carbonate. This is the location of the world's largest known carbonate-depositing spring, Terrace Mountain, and the Minerva Terrace, a series of travertine terraces.
The Mammoth area is one of the most historical areas of the park and the location of the Park Headquarters. Fort Yellowstone, built in the 1890s, was originally built as a military base. After the National Park Service was established in 1916, the army gave control of the park to the civilians. The Albright Visitor Center and Museum - open all year - offers exhibits on Native Americans (pre-1800), the mountain men (1807-1840), early exploration (1869-1971), the Army days and early NPS, as well as an exhibit on the predators of Yellowstone. The complex also houses the Moran Gallery and the Jackson Gallery. Films on Yellowstone's history are shown every half hour in the summer and on request in the winter. There is also an office that issues general information, backcountry camping permits, and fishing and boating permits.