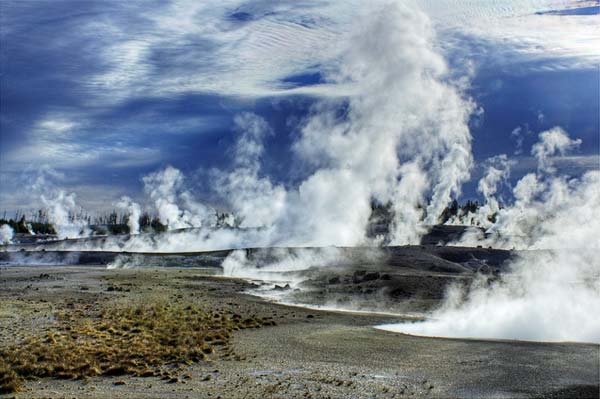 Norris Geyser Basin in Yellowstone National Park, Wyoming. - Photo by mark byzewski
One of Yellowstone National Park's most popular geyser basins, Norris Geyser Basin is made up of two distinct sections, the Back Basin - set in a forested area, with geysers and hot springs sprinkled among the trees - and the Porcelain Basin - which, unlike the other geyser basins in Yellowstone, is lacking in vegetation because plants cannot grow in the hot, acidic water that seeps out of the basin's thermal features. Two of the featured geysers in Norris are Echinus, the largest frequently active geyser in the world, and Steamboat, the largest active geyser in the world. Steamboat's last major eruption was in 1991, but it has minor eruptions up to 40 ft/12 m.
The Norris Geyser Basin Museum is 1/4 mi (1/2 km) east of Norris Junction, off Grand Loop Road. This National Historic Landmark was built in 1929 in a distinctive stone and log style which became a prototype for park buildings throughout the US. Exhibits in the museum focus on geothermal geology, life in thermal areas and Norris Geyser Basin features.
At the entrance to Norris Campground is the Norris Soldier Station, which houses the Museum of the National Park Ranger and exhibits on the development of the park ranger and the National Park Service.
There are two campgrounds in Norris Geyser Basin, Norris Campground and Indian Creek Campground.