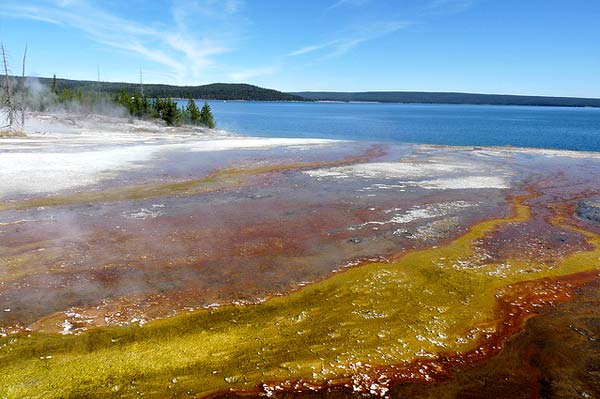 Colorful thermal pool in the Fountain Paint Pot area of Yellowstone National Park - Photo by Frank Kovalchek
West Thumb Geyser Basin is one of the smallest geyser basins in Yellowstone yet its location along the shore of Yellow-stone Lake ranks it as the most scenic. West Thumb derived its name from the thumb-like projection of Yellowstone Lake and the name was given by the 1870 Washburn Expedition. It was also known as Hot Spring Camp. West Thumb has less geyser activity than other basins. But West Thumb, for its size, has it all-hot springs, pools, mud pots, fumaroles and lake shore geysers.
Fishing Cone has been the most popular feature. Its unusual location along the lake shore and its symmetrical cone were popularized by early stories of "boiled trout." Abyss Pool is also noted for its depth and colors.
The Thumb Paint Pots are constantly changing. In the 1920s and 30s they were very extensive and active. Now they are less active but, depending on moisture, they still build mud cones.
Since the mid 1970s, West Thumb has decreased in thermal activity. Some temperatures have cooled in the basin allowing large colonies of algae and cyanobacteria to grow. As a result, large newly-formed microbial mats flourish on the run-off channels and along the edges of pools.
The Fountain Paint Pot is named for the reds, yellows and browns of the mud in this area. The differing colors are derived from oxidation states of the iron in the mud. As with all hot springs, the heat in the caldera forces pressurized water up through the ground, which is expelled here. Also, rising gasses cause the bubbling action. The bubble action in the mud varies with the seasons. In the early summer, the mud is watery from the high water table due to rain and snow melt. By the end of summer, the mud is much thicker as the water table drops.