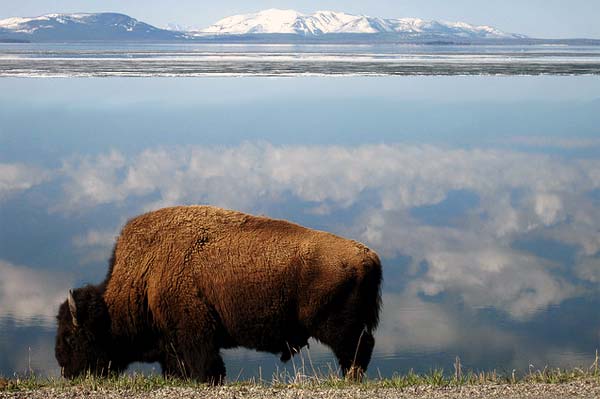 Bison Ranging Yellowstone Lake - Photo by Richie Diesterheft
Yellowstone Lake is the world's second largest high-altitude, freshwater lake. It is fed by and empties into Yellowstone River. Some archeological research has shown that indigenous people inhabited the area nearly 10,000 years ago.
Along the lake are Fishing Bridge, a popular place to observe the lake's fish, and the Fishing Bridge Museum and Visitors Center. The historic Lake Village comprises landmark buildings in Yellowstone's history. The Lake Yellowstone Hotel has been in operation since 1891 and was placed on the National Register of Historic Places in its centennial year.
There is also the Lake Lodge, one of four lodges in the park, offering accommodations that are less luxurious than the Lake Yellowstone Hotel but more comfortable than the tent camps. Two campgrounds are available, one for recreational vehicles, called Fishing Bridge RV Campground.
Fishing is allowed in Yellowstone National Park, but restrictions are carefully regulated. Anglers over the age of 15 must purchase a permit. Fees (subject to change) range from $15 for a three-day permit to $20 for a seven-day permit to $35 for a season permit. Children 12-15 may obtain a free permit. Those younger than 12 may fish without a permit, but under adult supervision only. Other restrictions include: season opening/closing dates, restrictive use of bait, catch-and-release only areas, and number/size limits according to species. A few places are closed to the public to protect threatened and endangered species, sensitive nesting birds, and to provide scenic viewing areas for visitors seeking undisturbed wildlife.